Slingshot Offers the Right Opportunity at the Right Time.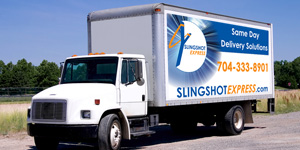 Are you looking for a position that let's you create your own hours, increase your entrepreneurial drive and become your own boss? Slingshot Express offers route and on-call deliveries for independent contractors that are self-motivated and enjoy working with the latest in mobile technology. Slingshot Express builds strong relationships with all our drivers which has allowed us a low turnover rate, and superior service to all our customers.

Call 704.374.0444
to learn more about the Slingshot difference today.